| | |
| --- | --- |
| | Biography |
Lee Genud Profile
Las Vegas Backgammon Magazine, October 1980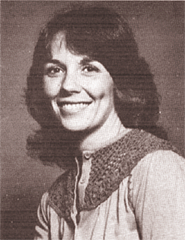 Lee Genud
The game of backgammon is serious business to Lee Genud, the only woman on the winning US team in the First International Backgammon Tournament, co-owner of a backgammon club in New Hyde Park, and author of a highly successful backgammon book.
The champion of the game board is also a world class bridge player and has acquired life master status three times over. Being a woman in a male dominated game has advantages and disadvantages. On the upside, she is continually underrated despite here tournament record.
"I think that this relates a lot to my sex as well to my fast style of play, which more than occasionally causes an error that might have been avoided. I find that some people want to play me solely because I am a woman while others would avoid me like the plague for the same reason."
"I think that women will continue to take a more significant role in backgammon. Emotionally, we may be better off when the cube comes our way, with less ego investment in passing a double than our male counterparts." Lee Genud is working hard to keep up her winning roll of the dice. As she says, "Backgammon is my job."
Presently, Lee is planning to create a woman's tournament for later this year with added prize money.
Lee may have compiled the best "in the money" tournament record of any American player in the last couple of years. Her record includes:
| | |
| --- | --- |
| 1978 | Women's World Championship |
| 1979 | Women's World Championship |
| 1979 | 1st Place Remy Martin Doubles |
| 1979 | 1st Place Remy Martin Open |
| 1979 | Semifinalist Monte Carlo Consolation |
| 1979 | Semifinalist Turnberry Consolation |
| 1979 | 1st Place last chance Stratton Mountain |
| 1979 | Semifinalist Reeport Consolation |
| 1979 | Member of winning team vs. European team via telecom |
| 1980 | Semifinalist Turnberry Consolation |
| 1980 | Semifinalist Boston Consolation |
| 1980 | 1st Place last chance Reno |