| | |
| --- | --- |
| | Biography |
Oswald Jacoby Profile
Las Vegas Backgammon Magazine, December 1981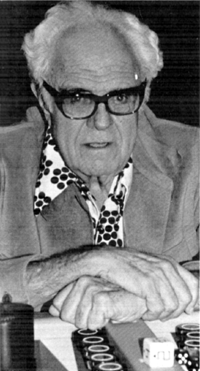 Oswald Jacoby
"Take backgammon, bridge, and gin rummy and there is no one who can beat me at all three games." But because he is seventy-eight and knows his limitations, the master gamesman qualifies that claim: "Individually, they'd beat the hell out of me."
That's a hefty admission for a man who, for fifty years, has collected championship titles like flies. Jacoby holds thirty-two national bridge titles and three international backgammon titles. His syndicated bridge column has run in newspapers for thirty years, and he has written primers on poker, bridge, backgammon, and canasta.
Nowadays, you'll find him at the Dallas Country Club, playing his current passion, gin rummy. He usually wins, and that pleases him. He plays for "moderate stakes" — nothing specific — and insists gambling is essential to a pleasurable game. "There is no such thing as playing any game for mere joy," he says, racing through his words. "If you don't have something to lose, you tend not to care. It spoils the game."
Jacoby pocketed sixty cents in his first poker game. He was eight at the time. The stakes later climbed considerably — though he won't say how much — in matches with Long Island's wealthy and Texas oil people. He's been known to play above his means, but he's mysterious about that too. The quality of play at such tourneys is respectable, Jacoby allows. "There's no bad backgammon anymore. Everyone plays pretty well. There is enough luck in the tournament so that no one is favored to win."
White-haired and intense, Jacoby still lives up to his reputation for brisk manner and rapid speech. His eyes dart constantly around the meeting room of the Dallas Country Club. He's always thinking about his next move, his next project. In an interview he acts tied down. There's no telling how he'll survive the sessions when he begins to work on his own life story with Roger Dionne, who wrote about Jacoby for Sports Illustrated.
Despite his natural impatience, Jacoby says he is slowing down. He tires easily and travels rarely. He restricts his projects to revising his 1941 standard poker text, Oswald Jacoby on Poker, and consulting with a British company for the game "Jacoby Computer Bridge." "I figured the name was still worth something," he quips.
In addition, he did manage to travel to Las Vegas last week to view, if not play, the poker tables. "Decadence," Jacoby says. "People have not respect for money. It's easy to see people bet $100,000 in an hour." "Maybe," he adds, "I'm just getting old." While Jacoby mourns that "youth is wasted on the young," he admits the young are rough competition.
But Jacoby was considerably younger when he won the first Goldman Pairs competition (Held in 1929), teamed up with a Manhattan businessman named George Reith. Three years later, the Brooklyn native came to Fort Worth to give a speech. He met a young woman the next day on a Dallas tennis court. She was Texas state tennis champion Mary Zita McHale. The two were married one week later, and have made their home in Dallas since 1937.
An insurance actuary for many years, Jacoby also did intelligence work for the Navy during World War II and in Korea. Of his two sons — Jon, an investment banker in Little Rock, and James, a stock broker who lives in Richardson — only James shares Jacoby's fervor for games. Jacoby calls James one of the ten best bridge players in the world.