| | |
| --- | --- |
| | Biographies |
Paul Magriel Profile
Las Vegas Backgammon Magazine, October 1980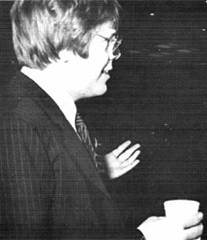 Paul Magriel
Paul Magriel
, 32, is the 1978–79 World Backgammon Champion. A resident of the city of New York, Magriel serves as backgammon editor of one of New York's leading daily newspapers.
An enthusiastic competitor, Magriel has won countless major international backgammon tournaments including: The World Backgammon Championship, Nassau, the Bahamas, January, 1978; The U.S.A.–Europe Challenge Cup, Athens, Greece, October, 1977 (a 63-point match). Magriel represented the United States, assisted by Roger Low; and The Children's Cancer Fund Tournament, two years in a row.
Sites of other important tournaments won by Magriel include: The Eldorado Backgammon Classic, Reo, Nevada, March 1980, Los Angeles, Palm Beach, Vermont, Westhampton, Beverly Hills, Palm Sprints, and the St. Regis, Princeton Club and El Morroco in New York.
Mr. Magriel attended Exter, was a National Science Foundation Fellow at Princeton University, and a Professor of Mathematics. As a mathematician and former New York State Junion Chess Champion, Magriel is, and always has been, fascinated by games and game theory.
Backgammon, Magriel's definitive book on the game, was published by Quadrangle/The New York Times Book Co. in December, 1976. A Book of the Month Club selection, Backgammon is now in its third printing. Magriel is presently working on a nine-book series on the advanced stages of backgammon in a more specialized, more specific form.