| | |
| --- | --- |
| | Equipment |
Build Your Own Board
Las Vegas Backgammon Magazine, March 1981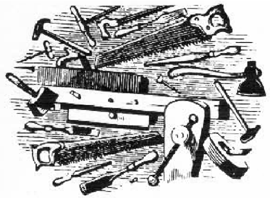 With the popularity of backgammon constantly on the rise, having a nice, personal board is a must. The prices of a good backgammon set vary from $50 to $500. However, you can build your own hardwood board for under $30, with no great carpentry skills involved.
Materials List
Two pieces of pine wood

1 × 2 — 27 lineal ft.
1 × 4 — 12 lineal ft.

One piece of dark hardwood (such as teak or walnut)
A piece of ¼" ac plywood
A dowel

13/8" dowel — 2 lineal ft.

A container of good white wood glue
Instructions
The first step is to glue the pine flush with the edges of the plywood to form the outside border. Next, is to glue a 19½" piece of 1 × 4 pine down the center of the board, running the 26½" way.
A piece of 1 × 4 pine is then cut to run down the center of the board, perpendicular to the first center 1 × 4. These pieces should be 9" each. They will be fitting the 28½" way.
Next, cut the remainder of 1 × 2 pine and dark hardwood. All these pieces are to be cut into a triangular shape. The length is 8" and the base is 1½" and goes to a 12° point in the length of 8". There will be 40 pieces of pine shapes and 12 pieces of hardwood. These pieces are then glued to the plywood in alternating and staggering order. This will form the playing area.
Next, the dowel is cut into 30 3/8" slices to form the playing pieces. Before continuing, keep in mind half of the round pieces should be stained a little darker than its natural color.
Finishing the board requires some #220 grit sandpaper — silicone dioxide is the best — a quart of spar varnish, and a small can of stain. The assembled board and pieces are to be sanded smooth and then varnished. (Six coats will be fine.) A light sanding between coats is highly advised. Be aware to stir varnish and not shake (this causes bubbles in the finish). The first coat should be diluted by about fifteen percent with mineral spirits. All other coats will be full strength.
Good luck, and enjoy your new board. It will be something of which you can be very proud.