| | |
| --- | --- |
| | Biographies |
Tim Holland Dies
New York Times, March 17, 2010

Tim Holland, who was widely considered the world's greatest backgammon player during that ancient board game's modern heyday, in the 1960s and '70s, died on March 10 at his home in West Palm Beach, Fla. He was 79.
The cause was emphysema, his daughter, Vanessa Holland, said.
In winning tournament after tournament and three world championships, Mr. Holland brought a cool self-confidence to the rapid-fire clacking of the checker-like pieces (the "men") around the 24 narrow triangles of the backgammon board.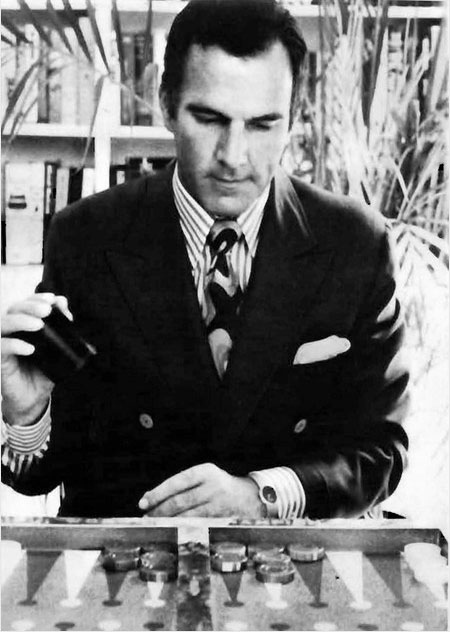 "He did not speak; he did not smile; his eyes rarely left the table," Jon Bradshaw wrote of Mr. Holland in his 1975 book, Fast Company (Harper's). "There was a palpable arrogance in his play. He rolled the dice and moved the men about the board with the poise of a man who knows that victory is only a matter of time."
Mr. Holland won the World Backgammon Association championship in 1967, 1968 and 1971. (No championship tournaments were held in 1969 or 1970.) Besides retaining the title, he pocketed more than $30,000 in prize money for each of those championships. By the early 1970s he was averaging $60,000 a year in tournament money, and that did not include significant earnings from bets he had placed on himself or his percentage from the winnings of the highest bidders at tournaments where the best players were "auctioned off."
"Holland is generally believed to be the best backgammon player in the world," The New York Times said in a 1974 article describing the renaissance of a game played in the days of the pharaohs. In the five years since 1969, it said, the number of Americans playing backgammon jumped from 200,000 to two million. By then, they were spending more than $6 million a year on backgammon sets, from run-of-the-mill boards selling for $5 to Chinese lacquer designs costing more than $500.
In that revival, Mr. Holland saw another path to profit — teaching. He wrote three books: Beginning Backgammon (1973); Better Backgammon (1974), for intermediate players; and Backgammon for People Who Hate to Lose (1977), about the psychological aspects of the game. All three books were published by the David McKay company. Mr. Holland also invented the Autobackgammon, a contraption that allowed players to play by themselves.
Alexis Obolensky, a Russian émigré aristocrat, had introduced backgammon to the jet set in the 1960s, organizing tournaments in the Bahamas, Monte Carlo and St. Martin. In 1972 he founded the Backgammon Association of America, establishing a standardized set of rules. It is now called the United States Backgammon Federation.
The backgammon craze has somewhat faded since. Still, it is believed to be the world's oldest board game. Archaeologists have discovered a 5,000-year-old board at the site of Ur of the Chaldees in Iraq. In Egypt, a backgammon set was found in King Tut's tomb. To this day it is a favored game in the Middle East.
It was not always Mr. Holland's favorite game.
Born on March 3, 1931, in Rockville Centre, N.Y., Simeon Holland was the only son of Simeon and Inez Holland. When he was 7, Tim (as he later chose to be called) won a father-son golf tournament and a mother-son tournament at a local country club. He starred on his high school golf team, then decided that Florida was the best place to play that game. After graduating from the University of Miami in 1952, he struggled to make a living playing golf. At a country club in Miami, he noticed several older men playing a board game he had never seen before. They taught him, and he was hooked.
Besides his daughter, Mr. Holland is survived by his wife of 28 years, the former Nancy Zorn; two stepsons, Andrew and Jimmy Zorn; and a granddaughter, Stephanie. Mr. Holland was divorced four or five times, his daughter said.
In backgammon, a game for two players, each player moves 15 men along the triangles, or "points," of the pattern on the board according to the roll of the dice. The first to remove all 15 wins. Although luck plays a significant role with each roll of the dice, players must still choose from among numerous options for moving pieces and anticipate countermoves by the opponent. And they can raise the gambling stakes during the game.
"It's the luck factor that seduces everyone into believing that they are good, that they can actually win, but that's just wishful thinking," Mr. Holland was quoted in Fast Company as saying.
It took several years and losses of about "30,000 bucks" to master the game, he continued.
"Let me tell you, it took a little time," he said, "but I got it all back from the sharks that took it from me. I got it back and more. I got it back in spades."