| | |
| --- | --- |
| | Stories |
The Talk of the Town: Playing X-22
The New Yorker, December 5, 1977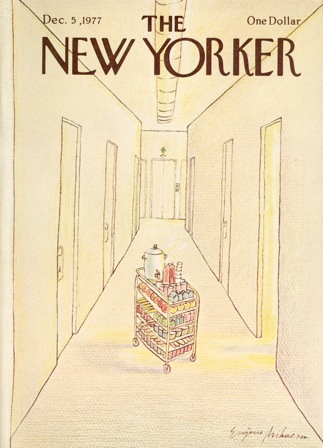 Well, George Plimpton finally got sacked. The rude upending of the longtime amateur scourge of professional sportsmen was effected the other afternoon, before our very eyes, by X-22, a professional player of and writer about backgammon, who is sometimes also prosaically known by his name, Paul Magriel.
The scene was a private dining room at "21." The occasion was a press conference to announce a forthcoming backgammon tournament in Las Vegas that was being co-chaired by Magriel and the venerable jack-of-all-games Oswald Jacoby, and would have a million dollars in prize money and a winner's purse of half a million. Plimpton's comeuppance occurred in a single game of backgammon against Magriel. However, Magriel, though his prowess has earned him the further sobriquet The Human Computer, was not heavily favored to prevail. The reason was that he had agreed to play blindfolded.
Oswald Jacoby had flown in for the press conference from Dallas, where he lives, to watch the contest, and before it started we asked him to tell us something about Magriel. Instead, he said, "I am the best seventy-four-year-old player of any game. Bridge, backgammon, poker, gin rummy — any of them. I play bridge better today than I did forty years ago, when I was the best in the world. I once played backgammon blindfolded, about thirty years ago. Very difficult. Harder than playing bridge out of my pocket, harder than playing chess blindfolded, because in backgammon you have these thirty men, all the same shape, wandering on and off and around a twenty-four-point board."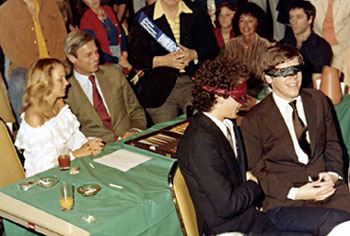 Roger Low and Paul Magriel play blindfolded
in a demonstration match with Denise
Hemingway and George Plimpton
Mr. Plimpton joined us, and we put our question to him. "Paul is a noted mathematician who specializes in probabilities," X-22's adversary told us. "He began playing chess at the age of five, and he played all through Exeter and was a whiz. While he was a graduate student at Princeton on a National Science Foundation fellowship, he switched to serious backgammon. That was seven years ago, when he was twenty-three. Incidentally, it was my wife, Freddy, who taught him backgammon. I wish she were playing him today instead of me. Oh, well, I have nothing at stake except the honor of my psyche. My tactics are going to be to talk as much as possible, ply him with drinks, and do everything else I can to befuddle him. If he loses track of a single piece on the board, I win."
Mr. Plimpton reminded Mr. Jacoby that they had played bridge together many years ago, at Harold Vanderbilt's. "You can probably remember the goddam hand, Ossie," he said.
"Yes, and it wasn't too good," Jacoby said.
"I remember I was playing the hand," Plimpton went on, "and you suddenly said 'What on earth are you doing?' and I said 'I haven't the faintest idea.'"
It was time for the big match to start. "À la table!" cried Plimpton. Magriel tied a green-and-brown scarf over his eyes and, to make doubly sure he didn't inadvertently peek at the board, turned his back on it. His dice were rolled for him, and the outcome conveyed to him, by a young woman with a long string of pearls and a strong throwing arm.
Just as Magriel led off, with a 6-3, Barclay Cooke, another backgammon expert of international renown, arrived and stood alongside us. "I have never played backgammon blindfolded," he whispered. "I wouldn't dare. This is not a memory game."
The action proceeded in a hushed, tense atmosphere. Sportingly, Plimpton made no attempt to addle his foe either with drink or with gabble. At one point, Magriel, who scarcely hesitated over his moves, said, "I'll make a run for it." Plimpton could have smitten the piece that Magriel was running with if he had thrown either a 4 or a 2, but he came up with a 3-1, and Magriel escaped. Plimpton still had a chance, but the consensus of the onlookers was that he misplayed a crucial double 3. Then Magriel threw a fortuitous 5-3, followed shortly by a crushing double 6, and Plimpton's jig was up.
"I'm outraged," said the loser to the winner, without looking so at all. "Absolutely outraged. What have you done to my psyche? But it was a great privilege. I'll tell Freddy that I almost won. I should have stuck to my original game plan."
"In any one game of backgammon, there's a lot of luck involved," Magriel told him soothingly. "But there are levels and levels and levels. Backgammon is far more complicated than people believe."
A woman who had been watching asked X-22 if it was good practice for him to play blindfolded.
"I don't do it much," he replied. "In Russia today, it's illegal to play simultaneous blindfolded chess, because too many good young players went insane doing it."
We asked X-22 how he had acquired that nickname.
"I used to play backgammon against myself," he said, "and once I had a private tournament with sixty-four imaginary entrants, whom I designated X-1, X-2, and so forth, through X-64. In the final, X-22 was pitted against X-34, and X-22 won."