Backgammon Variants



Acey-Deucey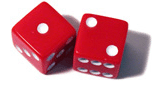 Acey-deucey (also spelled "acey-deucy" or "acey-ducey") is one of the most popular backgammon variants. It is a faster game and in some ways more exciting than regular backgammon. The main distinguishing feature is the roll of 1 and 2 (acey-deucey) which gives the player who rolls it extra turns.

There are several ways of playing of Acey-Deucey. Here are descriptions of the three most popular versions of the game:

Mexican Backgammon has similar treatment of the 1-2 roll, so it can be considered a another version of Acey-Deucey.

Acey-deucey seems to have originated in the Middle East and is now popular all over the world.