Backgammon Variants



Chasing the Girls

This game from Iceland is very old, and may date from Roman times.

Setup: The players have just six checkers each, one on each point in the opposite right-hand table, as shown below. The checkers move in a counterclockwise direction and continue to circle the board until one player has no checkers left.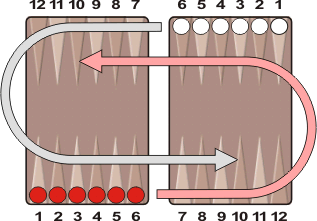 Start: Each player rolls one die. The player rolling the lower number goes first and rolls both dice again to start his turn.
Moving the checkers: Only rolls of doubles or rolls containing a 1 or a 6 are played. A roll of 6-6 is played twice (as in regular backgammon); all other doubles are played just once.
With a mixed roll, any number other than 1 or 6 is ignored. The 1's and 6's are played as in normal backgammon. For example, a roll of 6-1 permits a player to move one checker a total of seven points, or one checker six points and another checker one point.
Only one checker is allowed on a point. If a roll brings a checker to a point already occupied by one of the same color, the checker is placed on the next available point beyond it.
Hitting: If a checker lands on a point occupied by an opponent's checker, the opponent's checker is removed from the board.
Corner-rattler: When a player has only one checker left, that checker is known as a corner-rattler and the method of play changes:
The corner-rattler may land only on points numbered 1, 6, 7, and 12.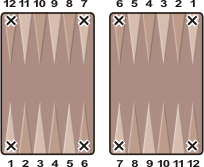 A roll of 1 moves the corner-rattler ahead to the next corner point.
A roll of 6 moves the corner-rattler ahead two corner points.
A roll of 1-1 or 6-6 move ahead two corners or four corners respectively.
Any other double allows the player to roll again.
For example, suppose your corner-rattler is on the one-point and you roll 6-1. The 6 moves you ahead two corners to the seven-point, and the 1 moves you ahead one more corner to the twelve-point.
One other feature of a corner-rattler is that it is imune from attack if it is sitting between two enemy checkers. In the example below, Red has a corner-rattler between two of White's checkers.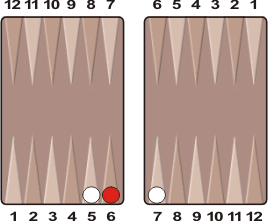 If White rolls 3-1, he may not use the 1 to hit Red. (If White wants to move the checker on the five-point, he must move it to the eight-point, the next available space). However, if White rolls 6-1, he can first use the 6 to move the checker from the seven-point to the far one-point, and then use the 1 to hit Red and win the game.
If both players are reduced to corner-rattlers, a long chase may develop before one of them is hit.
R. C. Bell: Discovering Backgammon.
H. J. R. Murray: A History of Board-Games other than Chess; Oxford University Press, Oxford, England; 1951 (page 121).