Backgammon Variants



Eureika

Eureika is a game of pure luck. Children in the Middle East are taught the game to familiarize themselves with a backgammon board.

Setup: Each player puts three men each on his one, two, and three points, and two men each on his four, five, and six points.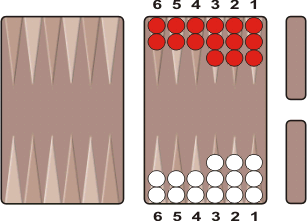 Start: Each player rolls one die, and the higher roller plays first. The winner then picks up both dice and rolls them again to play his first turn.
Play: You roll the dice and bear off checkers from the points indicated by the dice roll. (You do not move checkers forward as in regular backgammon.)
The first player to bear off all his checkers wins the game.
Differences from Backgammon
Play starts with all checkers in the home boards.
The winner of the opening roll rerolls for his first turn.
There is no checker movement; this is a game of bearing off only.