Backgammon Variants



Poof

This game is the same as regular backgammon with one exception: you always play the lower number of a roll first. If you can't play your lower number, you forfeit your turn.

For example, suppose White is on the bar and rolls 1-5 in the following position.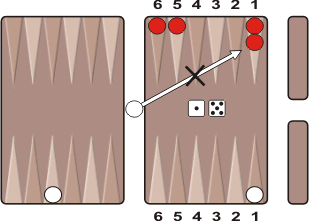 White can't enter on the Red's one-point because that point is blocked. And White can't enter on Red's five-point because that would be using the 5 first. So he is stuck.
Differences from Backgammon
You always play your lower number first.